S&T (Kontron from 2023 February) together with 5 major Hungarian universities agree to sign a 5 years strategic co-operation. S&T supports the high education institutes by providing industrial digitalization software solutions and trainings worth multimillion Euros value (calculated on commercial prices) in the framework of the contract.
6th of November 2019, Budapest. S&T Hungary Ltd. (now Kontron ) announces to launch S&T University 4.0, a unique program in the history of Hungarian higher education. S&T, one of the leading system integrators and an expert in industrial digitalization, is aiming to help developing industrial digitalization capabilities of Hungarian universities.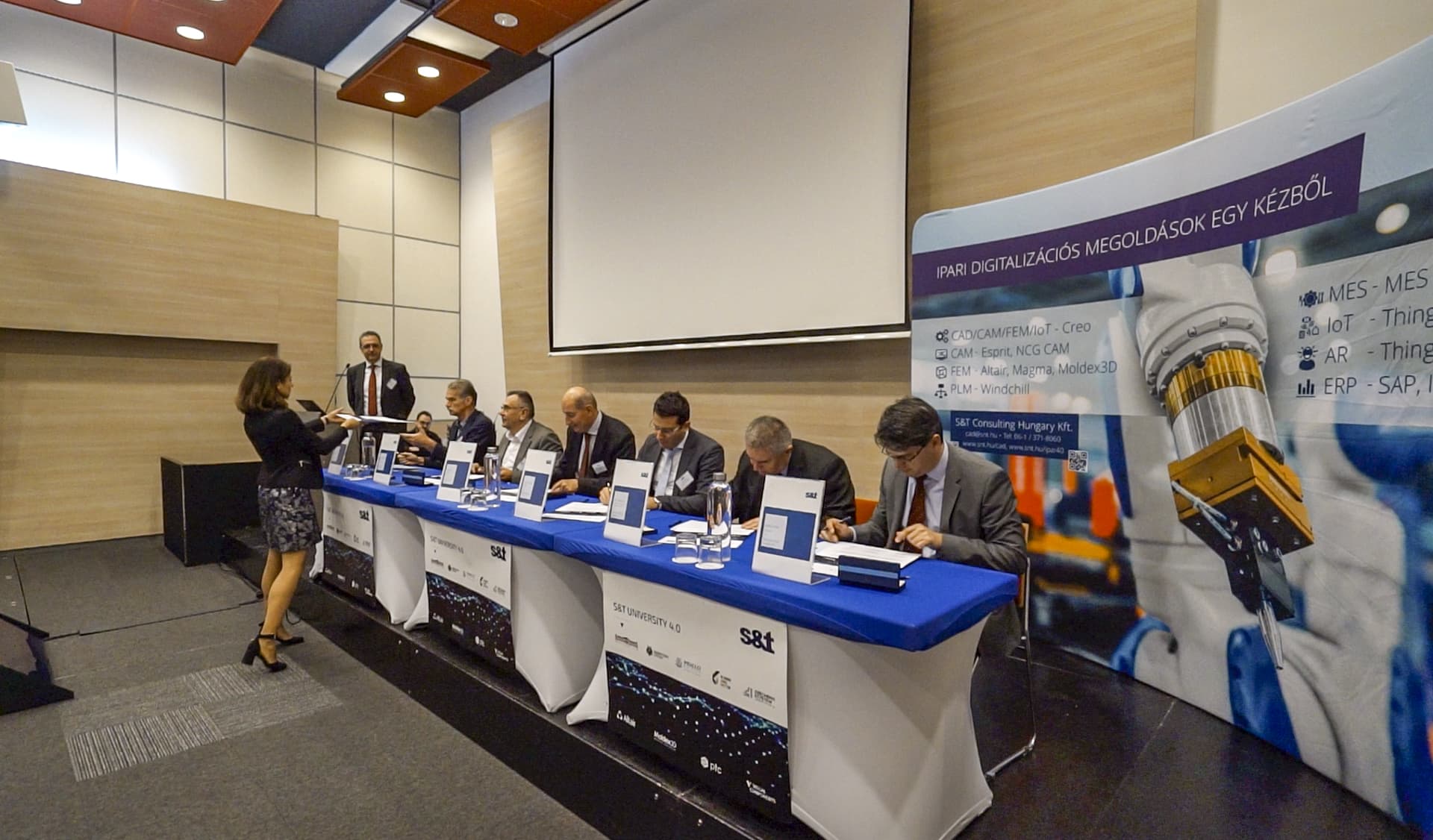 The leaders of the participant universities and the CEO of S&T are signing the program starting certificate.
University of Technology and Economics of Budapest – Dr. János Józsa, Rector,
University of Debrecen – Prof. Dr. Ákos Pintér, General vice-rector
University of Miskolc – Prof. Dr. András Torma, Rector
John von Neumann University  – Dr. Zoltán Weltsch, Vice-rector
Széchenyi István University – Dr. Ottó Dóka, Vice-rector of research infrastructure
S&T Hungary Ltd. – Péter Szabó, CEO
The fourth industrial revolution poses never seen challenges to both industry and education alike. For Hungary it is imperative that participants of both fields execute this transformation as quickly as possible so that the country itself can emerge as a winner of such challenging times. S&T University 4.0 Program is planned to work as a catalyst by speeding up the bidirectional knowledge transfer between the industry and the universities.
"It is impossible to take advantage of the transformation to Industry 4.0 without new generations of engineers who are well trained to use and understand the importance of the most modern digitalization software solutions. Therefore, universities play a crucial role in the modernization of Hungarian industry. Recognizing this we created the S&T University 4.0 program. We do believe we can provide the needed momentum for this transformation which will generate industrial growth", said Péter Szabó CEO of S&T Hungary Kft.
"Launching this program today is a result of one and a half year of preparation. We think of this as a strategic investment into the future. We would like to thank both our partners, the developers of software, and the universities for their very positive and constructive approach. We are certain that our software solutions will be in great hands and that the obtained knowledge will greatly enhance the development of the industry", said Ferenc Nyirő, leader of S&T 's Industrial Digitalization Business Unit.
Content of S&T University 4.0 Program
The program was developed in tight co-operation between S&T and its partners, utilizing their existing educational programs and offerings, but also adapting them to meet the requirements of the Hungarian universities. The program is initially released to run for 5 years. S&T, together with its partners, provide industrial digitalization software to universities and corresponding trainings to the teachers and professors. The program will put increased emphasis on supporting vehicle development teams of the involved universities.
S&T 's software partners and their software solutions participating in the program
HyperWorks®: professional comprehensive finite element analysis software with strong digital twin capabilities
Moldex3D®: leading plastic molding analysis solution
Creo®: high–end, integrated CAD/CAM/CAE software, with a major focus on Industry 4.0 related new and advanced technologies, like additive manufacturing, generative design, IoT and augmented reality
Windchill®: leading, IoT-ready, multi-CAD Product Lifecycle Management software with robust collaborative design support. Windchill also provides the perfect platform to enhance co-operation between the universities.
Visual Components: next generation plant and robot simulation solution
Universities participating in the S&T University 4.0 program
University of Technology and Economics of Budapest
University of Debrecen
University of Miskolc
Neumann János University
Széchenyi István University
Participants may be added later on, after analyzing the results of the initial program. S&T is open to receiving new applications from universities.
"With the University 4.0 Program set up by our Channel Partner S&T Hungary Kft. we are confident that we will become an elementary part of the curriculum of participating universities which are using Altair's world-leading simulation and optimization tools", said Dr. Matthias Goelke, senior director for business development academic markets at Altair.
"Industry 4.0 changes the world, and universities play a key role in the transformation. Moldex3D proudly empowers the leading Hungarian universities with cutting edge 3D injection molding simulation software as part of the S&T University 4.0 Program. We're committed to building a long term relationship with the Hungarian education system", said Dr. Venny Yang, President of Moldex3D.
"PTC Academic functions as an intermediary that connects the industrial world to the academic world, whether it be for professors, educators or for students to help them understand the technologies that are coming. Our mission is to empower students and educators to succeed in the next generation of industry where physical and digital worlds converge", said Dr. Jordan Cox, Senior Vice President PTC Academic.
"Visual Components is excited to establish long-term cooperation with the leading Hungarian universities. Together with our partner S&T, we aim to introduce local students to Industry 4.0, educate them on how to improve manufacturing processes, and help them lead the positive change in the Hungarian market and globally", said Patrik Buch Lund, CEO at Visual Components.
"Budapest University of Technology and Economics as the leading technical higher education institution in the country is excited to participate in the University 4.0 program. This activity can be an important part where young people not only become excellent professionals but educated persons in the widest sense", said László Lengyel director of Center for University-Industry Cooperation (FIEK), University of Technology and Economics of Budapest.
"University of Debrecen plays an important role in developing the region's industry, acting as the region's main center of technical expertise. Our partnership with S&T dates back to many years. Their professional solutions are widely recognized and used by the industry. Through this co-operation we are able to boost the competencies of our engineering students by providing them trainings for these software solutions, thus increasing their chances of employment", said professor Dr. Ákos Pintér General Vice-rector of Debrecen University.
"Modern engineering is difficult to imagine without integrated design software being a part of University education. The technical faculties of Miskolc University feel privileged to have been provided with such comprehensive software package through the framework of S&T University 4.0 program. Our graduating students can only benefit from the state-of-the-art technical know-how, which is highly demanded by the industry these days," said professor Dr. András Torma, Rector, University of Miskolc.
"With the software solutions provided by S&T, Neumann János University can now include even more design platforms into its curriculum, thus further raising the level of the most practical technical and information technology education in the country", said Dr Zoltán Weltsch Vice-rector of Science, Neumann János University.
"The educational portfolio of Széchenyi István University is being broadened by market leading digital software solutions through S&T University 4.0 Program. Thorough the courses of our practice-oriented curriculum, our students, development competition teams, and teachers are now empowered to work using best in class industrial digitalization software solutions", said Dr. Ottó Dóka, Vice-rector of Research Infrastructure of Széchenyi István University.
About Kontron Hungary Ltd.
Kontron AG, listed at the Frankfurt Stock Exchange (SANT), is one of the leader IT providers in Central and Eastern Europe. The Kontron group is present in 25 countries with an overall income of 1 billion Euros for 2018. As a part of Kontron group, Kontron Hungary Ltd. is one of the leading system integrators in Hungary. In 2018 its income reached 20 billion HUFs and had 360 employees. Kontron Hungary Ltd. offers IT consultancy, delivers and integrates a wide range of IT solutions and services, and is also ready to develop custom made solutions for its customers. The company's portfolio ranges from ERP solutions and services to industrial digitalization while also covering other key areas of IT like networks, storage, virtualization, infrastructure, cloud and security.
To learn more, visit: snt.hu, +36 1 371 8060
About Altair Inc. (Nasdaq: ALTR)
Altair is a global technology company that provides software and cloud solutions in the areas of product development, high performance computing (HPC) and data analytics. Altair enables organizations across broad industry segments to compete more effectively in a connected world while creating a more sustainable future.
About CoreTech System (Moldex3D)
CoreTech System Co., Ltd. (Moldex3D) has been providing the professional CAE analysis solution "Moldex" series for the plastic injection molding industry since 1995, and the current product "Moldex3D" is marketed worldwide. Committed to providing advanced technologies and solutions to meet industrial demands, CoreTech System has extended its sales and service network to provide local, immediate, and professional service. CoreTech System presents innovative technology, which helps customers troubleshoot from product design to development, optimize design patterns, shorten time-to-market, and maximize product return on investment (ROI).
About PTC (NASDAQ: PTC)
PTC unleashes industrial innovation with award-winning, market-proven solutions that enable companies to differentiate their products and services, improve operational excellence, and increase workforce productivity. With PTC, and its partner ecosystem, manufacturers can capitalize on the promise of today's new technology to drive digital transformation.
About Visual Components
"Visual Components is recognized as a leader in the manufacturing simulation industry and trusted technology partner to many leading brands such as Caterpillar, Foxconn and Samsung. Visual Components offers machine builders, system integrators, and manufacturers a simple, quick, and cost-effective solution to design and simulate robots, production lines and factories. With solutions for manufacturing design, sales, and application development, Visual Components software is trusted by organizations worldwide to support critical planning and decision-making processes."
Industry 4.0 – Learn about our Industry 4.0 solutions and contact us for our current news and sales!